Reliability with a modern look of elegance
Superb Line electric water heaters are distinguished by a modern,
visually appealing square design with rounded corners and
advanced technology that enables maximum performance
in accordance with European directives.
Supr F
This elegant flat water heater offers
an optimal balance between space used and performance.
Supr D / Supr ED / Supr ESD
Water heaters with style, combining maximum energy efficiency, safety and reliability of operation.
Supr Z
Water heaters with dual-circuit operation offers great adaptability in power setting and
operation mode selection: smart regime and fast heating with up to 6 kW of power.
Possible control with signal for off-peak operation during the day or during the night low tariff.
Supr / Supr ES
They are distinguished by all the features of the Supr D family
in the version with immersion copper heating element.
Spin the wheel of wishes
and learn about the key advantages of the solutions brought to you by TIKI!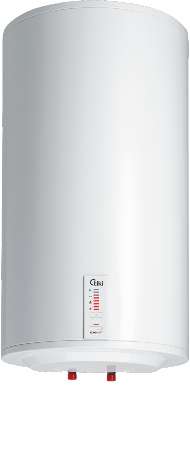 Digital navigation
Digitalised electronic control thanks to soft buttons brings an entirely new user experience: your touch for the heat of your home.
Double corrosion protection
State-of the art, exceptionally pure enamel and a large magnesium anode ensure durability even in the toughest working conditions, without noxious additives in the water.
High-quality insulation
Environment-friendly thermal insulation ensures economic consumption of energy and very low heat losses. In some models the insulation can be up to 100 mm thick. It is made of high-quality, environment-friendly polyurethane foam that does not contain chlorofluorocarbons (CFCs).
Indirect tubular air heaters
Electric heaters are inserted in a steel, enamel-protected heating flange and are not in direct contact with water. This ensures their longevity, reduces the accumulation of limescale deposits and simplifies servicing.
Warranty
All water heaters have a general two-year warranty. If conditions from the warranty certificate are met, some appliances have a 5-year or even 7-year warranty.
European standards
Innovative solutions contain components made by renowned European manufacturers, which gives the devices sustainability and ensures compliance with all international standards.